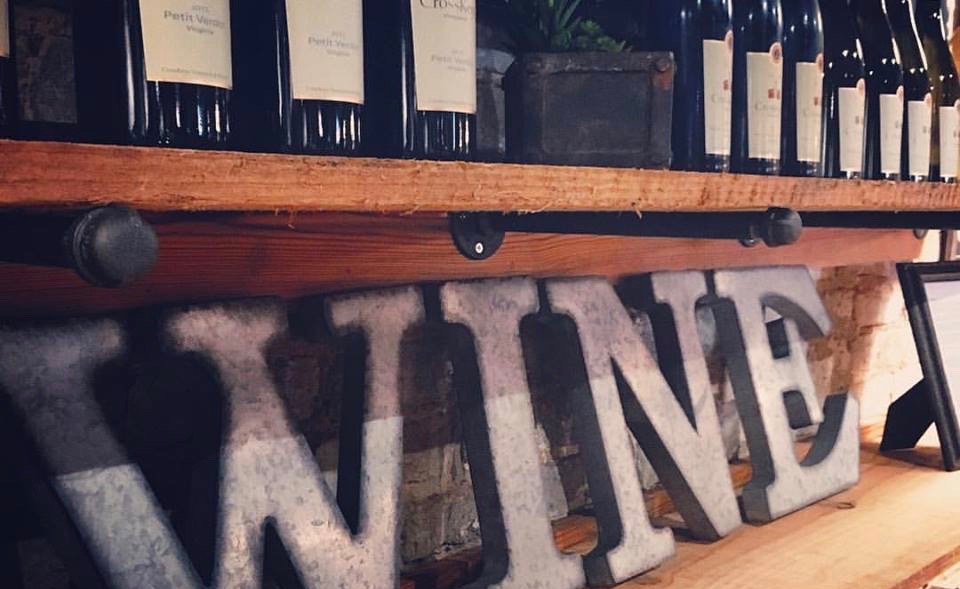 Farmville's quaint downtown Main Street area offers a unique and enjoyable shopping experience. The stores – and the treasures awaiting your discovery, from furniture to handmade takeaways – are one of a kind. And our friendly retailers and charming small-town setting make the adventure one to remember.
The Virginia Tasting Cellar: Part wine shop, part tasting room, part events venue, the Virginia Tasting Cellar offers a unique experience. One location – in fact, a remodeled pre-Civil War stable overlooking the Appomattox River – to taste, enjoy, learn about and buy a variety of Virginia's best wines. Open Fridays noon-7 p.m., and Saturdays and Sundays 11 a.m.-6 p.m..
Green Front Furniture: A show-stopping furniture superstore divided into 12 buildings, organized by specific home furnishings and accessories – truly a must-see. One of Virginia's elite furniture stores with something for everyone. Green Front's mission is simple: "To provide customers with the largest selection of items from around the world, at highly competitive prices, design and quality."
The Outdoor Adventure Store: Bike rentals, repairs, and sales. Clothing and technical apparel for outdoor recreation, including canoe and kayak rentals. Advice on planning your excursion. Everything you need for your very own outdoor adventure in Farmville. The perfect one-stop shop before getting on the High Bridge Trail just a block away.
Buffalo Creek Guitar Company: New and used guitars, amps and other gear — and a whole lot more. Music lessons (guitar, bass, mandolin, piano and vocal), guitar repair, pro audio advice, sales and installation, and live music. Friend to area musicians old, new and wannabe.
Penelope: Women's Clothing, Accessories and Jewelry. Brands include Kameleon, Lily & Laura, Lizzy James, Lori Bonn and more.
Prince Edward Antiques: Prince Edward Art and Antiques offers a combination of antiques and art. Walking into Prince Edward Antiques is like stepping back in time.
Ashby Antiques: Offering treasures from the past, a great place for home finds and gifts for yourself and others. Ashby Antiques has a rotating inventory of antiques, furniture and other gifts and knickknacks.
Amish Originals: Amish handcrafted furniture and other specialty items. Owners Richard and Carol Broadwater, who were raised in an Amish community, get most of the furniture from the Amish in Holmes County, Ohio.
Sleeping Bee: Unique items for your home, including accents and personal accessories. The quintessential gift shop stocked with gifts for every season.
Mainly Clay: Come delight yourself in one of the oldest artistic endeavors known to humans. Watch your own creations take shape on the potter's wheel, then enjoy their beauty for years to come.
Red Door 104 – Look for the distinctive red door on Farmville's downtown Main Street for a range of arts and crafts workshops and classes.
J Fergeson Gallery – This local gallery brings together a mix of local and nationally recognized artists in their downtown gallery space with art on display and for purchase.
Guinea Creek Crafts – This Main Street crafts mainstay offers wreaths, paintings, baskets, decorations and more for every holiday.
Lib's Place – The place to go for all your crafting needs, from cake decorating to quilting, even scrapbooking and jewelry making. They offer classes on everything from sewing to landscaping.
Appomattox River Company – This warehouse/showroom in Downtown Farmville is the largest canoe and kayak specialty store around. They've been offering their expertise on paddling and the best deals on water-craft for 37 years.
Farmville Farmer's Market – Saturdays, 9 a.m-1 p.m. – Enjoy locally grown fruits and vegetables, meats, home-baked goods, handcrafted items and more. The Marketplace is located in downtown Farmville at 213 North Street.