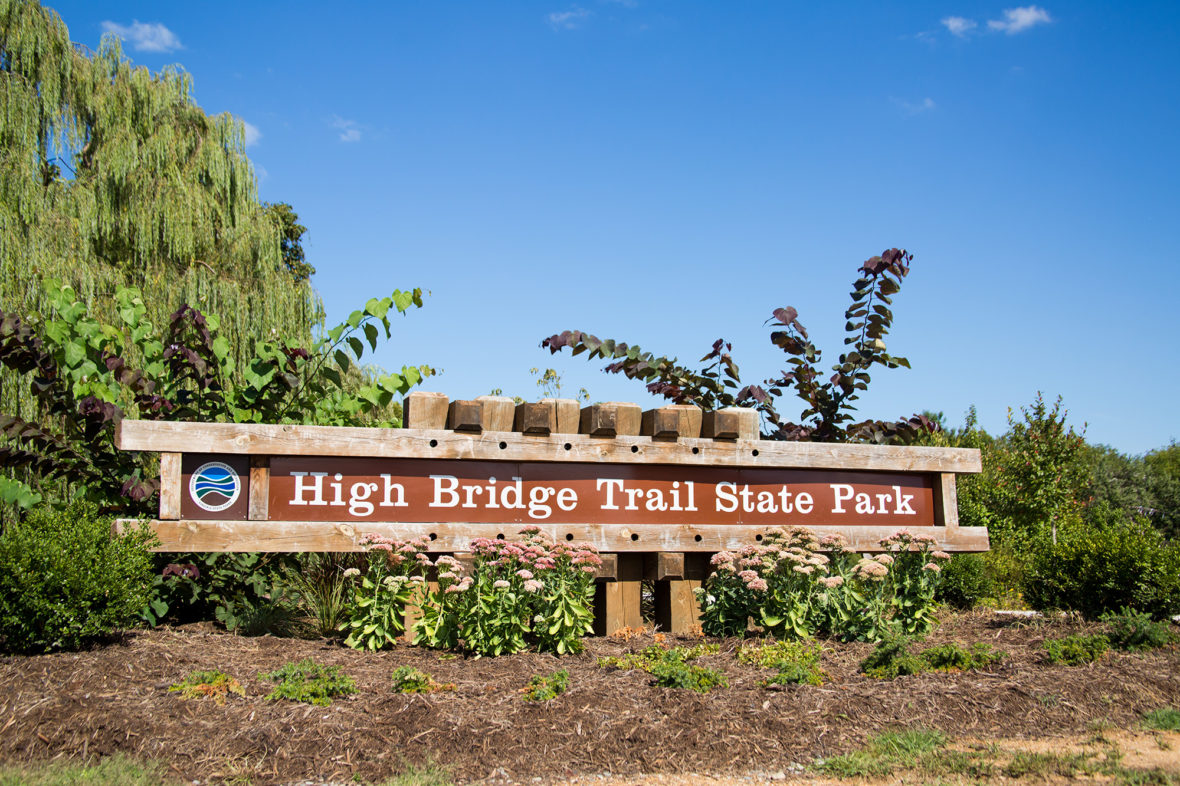 High Bridge – High Bridge Trail offers a dramatic hike or bike ride 125 feet above the Appomattox River. You can rent bikes at the Outdoor Adventure Store in downtown Farmville, then just jump on the trail a block away and embark on your 4.5-mile ride to the bridge, a must-see attraction! 
Adventure Park at Sandy River Retreat – The state's largest zip line/aerial adventure park, just six miles southeast of Downtown Farmville. Zip through the treetops on 20 zip lines and navigate 60 obstacles! Click here for more information, including hours and pricing.
Horseback Riding – For a listing of nearby farms and ranches that offer horseback riding lessons and trail rides, click here.
The Farmville Blueway – A protected stream corridor maintained for recreational canoeing and kayaking. This four-mile water trail begins on the east end of Wilck's Lake at the boat ramp, crosses the lake to its west side, enters Buffalo Creek and continues down the Appomattox River to the take-out at Riverside Park. Click here for a map of the routes. To learn more, including kayak rental options, click here or call (434) 392-7275.
Canoe and Kayak Outfitters – Choose from tandem and solo kayaks and double and single canoes for your adventures on the Sandy River Reservoir or the Appomattox River (see Farmville Blueway above).
Wilck's Lake – A 150-acre natural area, including a 55-acre lake, managed and owned by the Town of Farmville. HIKING – Enjoy a leisurely stroll along the two-mile hiking/walking trail that circumnavigates the lake and provides abundant opportunities for birding and wildlife watching. Over half of the trail is under a canopy of trees and passes through various marsh, swamp and river habitats. FISHING – The lake is stocked and managed by the Virginia Department of Game and Inland Fisheries. Fish species include large mouth bass, sunfish, crappie, channel catfish, carp, and gizzard shad. Playground, picnic shelters and restroom facilities available.
Twin Lakes State Park – In the heart of central Virginia, this historic park offers hiking trails along with a full array of cultural, environmental and recreational activities. For the Twin Lakes State Park Trail Guide, click here.
Bear Creek Lake State Park – Surrounded by the Cumberland State Forest, this was a project during the Great Depression, when 100 men with the Civilian Conservation Corps built the lake and two pavilions. Outdoor adventures include trails for hiking, biking and horseback riding, freshwater fishing, boating, swimming, and rental of rowboats, paddleboats and canoes. For the Bear Creek Lake State Park Trail Guide, click here.
Holliday Lake State Park – Deep in the Appomattox-Buckingham State Forest, Holliday Lake is a paradise for the outdoor enthusiast. Outdoor adventures include trails for hiking and mountain biking, swimming, freshwater fishing, rental of rowboats, paddleboats and canoes, and the Sunfish Aquatic Trail, a self-guided water tour. For the Holliday Lake State Park Trail Guide, click here.
Prince Edward-Gallion State Forest – This 6,496-acre state forest, located 15 miles southeast of Farmville, features an 8-mile, non-loop multi-use trail open to hikers, bikers and horses. Visit the website for seasonal closing information. Click here for a brochure.
Cumberland State Forest – 16,233 acres that includes 30.5 miles of trails, including two self-guided trails that are open for walking, hiking, horses, and mountain bikes. The Cumberland Multi-Use Trail is 14-mile loop trail weaves through the State Forest and Bear Creek Lake State Park. Willis River Hiking Trail is a 16-mile loop trail that follows the Willis River that borders the Forest. Look for oak-hickory forests, stands of Loblolly Pine, white-tailed deer, wild turkey and bobcats.
Appomattox-Buckingham State Forest – offers opportunities for hiking, wildlife watching, biking, horseback riding, hunting, fishing, geocaching and picnicking.