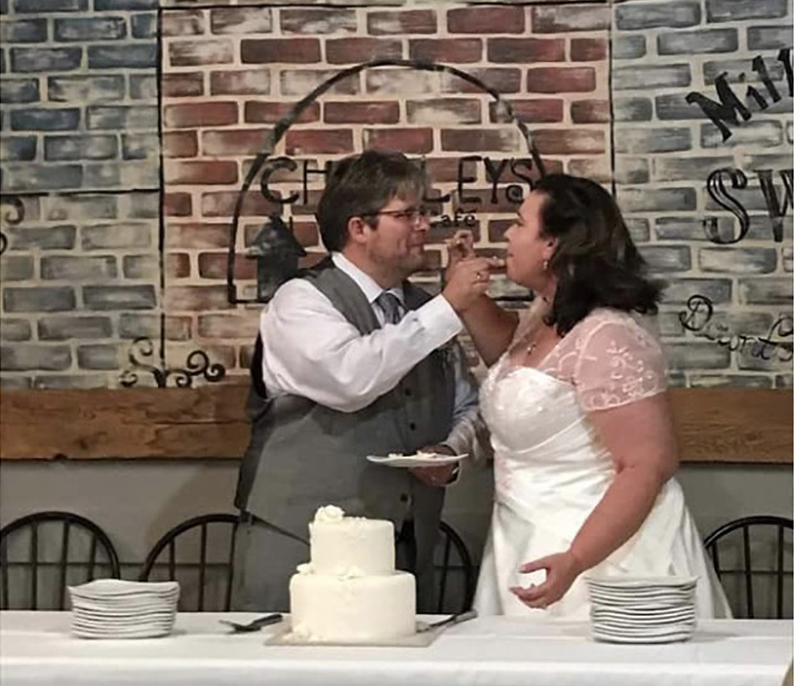 Nuptials on the High Bridge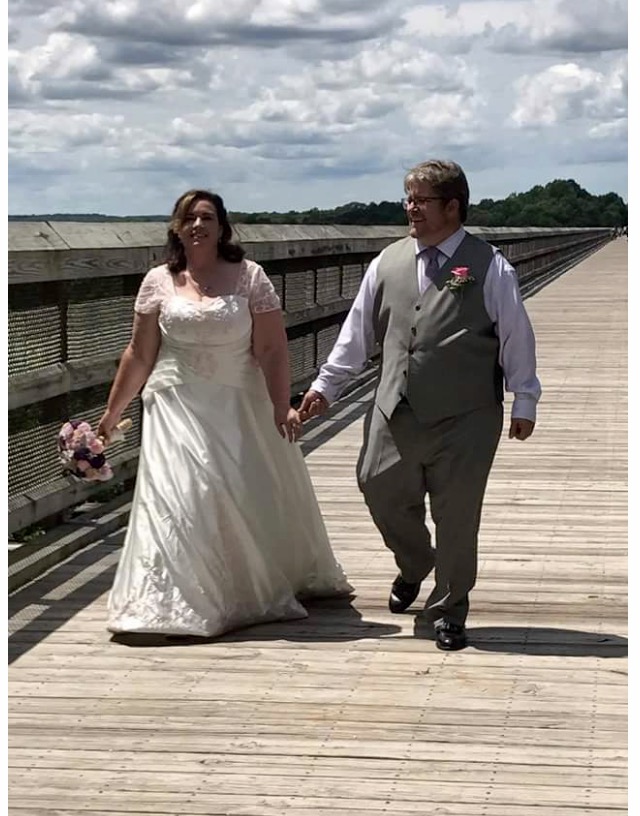 The High Bridge near Farmville, Virginia, has taken love to a new level. While there have been a number of reported proposals on this scenic landmark (one of which was recently related here), there had never, to our knowledge, been an actual wedding on the Bridge – until this summer!
That landmark wedding, between Lori and Ervin Beekman, took place on Saturday, June 24, on the High Bridge at the bump-out closest to the Camp Paradise entrance. With 22 friends and family members in attendance, it was a perfect, sunny day featuring blue skies, white fluffy clouds, a light breeze – and an amazing panorama of the Appomattox River 125 feet below!
Following the ceremony on the Bridge, the wedding party and guests headed for Charley's Waterfront Café, where the couple held a luncheon reception. Of course, beloved town baker Maria of Maria's Sweet Creations made the beautiful and delicious wedding cake.
Lori and Ervin first met in 1985 during their junior year of high school. They became friends and sat at the same lunch table. In 2014, the two connected again via Facebook and hit it off.
For their first date, they chose to meet for a scenic hike at the High Bridge, near Longwood University in Farmville, where Lori went to college. That's why, when love bloomed and they found themselves making wedding plans, they decided the High Bridge would be the perfect location. "We felt we should go back to where our love story really started … on that bridge," said Lori.
"Farmville has always held a special place in my heart," she continued. "It's a town that reminds you of the good times of the past. It's easily walkable, friendly and unique with little shops that are like hidden treasures. It's relaxed and comfortable, but with fun things to do all year round."
First dates. Proposals. And now a wedding. Love is definitely in the air at the High Bridge.
#LOVEontheHighBridge #ToFarmville