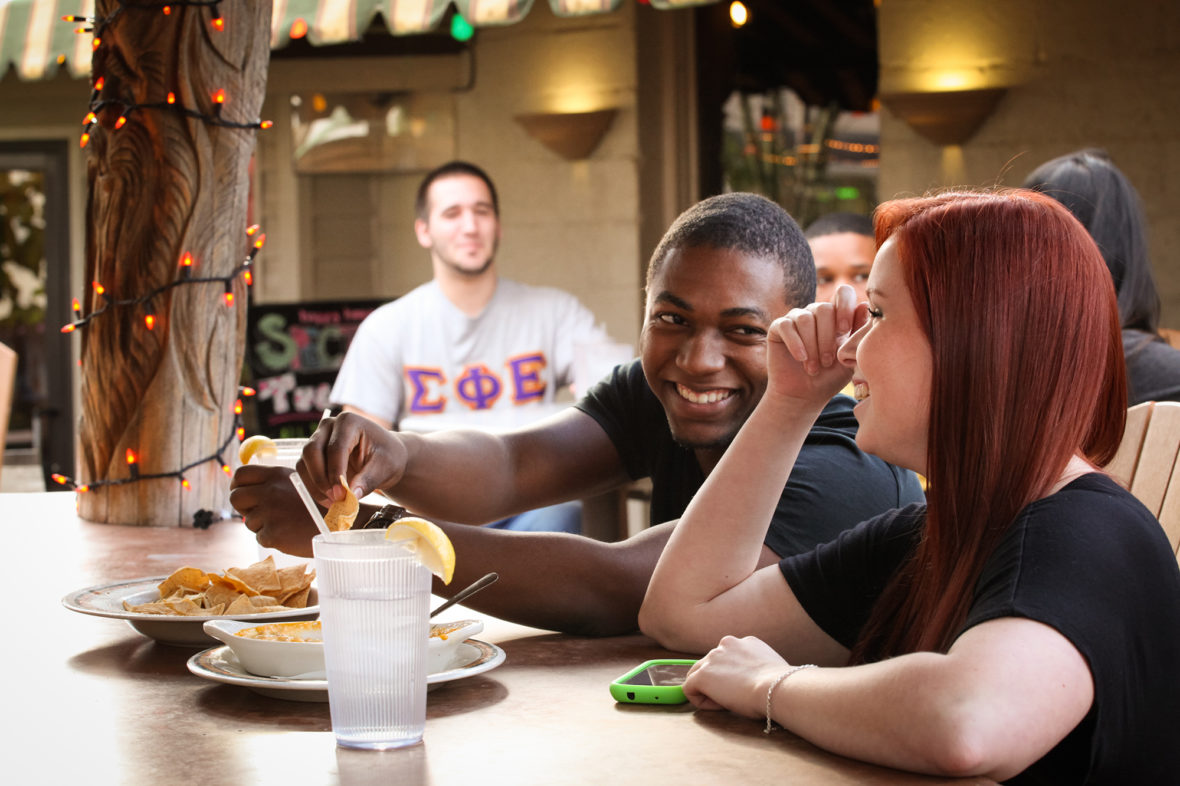 Dine out in Farmville and enjoy genuine down-home flavors and ambiance. Choose from BBQ to classic diners, Mexican cuisine to laid-back coffee shops … even familiar franchises. One thing they all have in common is small town warmth and character.
Fishin' Pig: A Southern fusion-style restaurant combining great BBQ, seafood and chicken, The Fishin' Pig is a Farmville original. Owner Shorty Osborn's specialty is known as Shorty's Famous seafood and chicken breading, while his partner Matt Hurley is a renowned BBQ connoisseur.
Charley's Waterfront Café: Offering views of the Appomattox River, delicious cuisine, an expansive wine list and an enchanting ambiance, Charley's is a must-visit when in Farmville – perfect for families, friends or a romantic date.
La Parota: Family-owned and -operated since 2000, La Parota offers authentic Mexican cuisine. Classic dishes include grilled fajitas, burritos and wonderful dinner specials that can't be beat. Spice up your Farmville visit with a delicious meal at La Parota.
Uptown Coffee Café : A gathering place for locals and travellers alike. Enjoy coffee, tea, soups, salads, sandwiches – even live music – along with the great company. Check out their Facebook page for updates on live performances and weekly specials.
Walker's Diner: An authentic diner in the heart of Farmville serving up the classics. Located across from Green Front Furniture, Walker's Diner makes it convenient to fuel up before a day full of shopping. Walker's is known for its fresh, juicy, ground beef burgers and other specials, all made with love. No Farmville visit is complete without a quick bite, milkshake or homemade dessert at Walker's Diner.
Merk's Place: This family-style restaurant has something for everyone, including mouthwatering specials. Signature crinkle cut fries and home baked desserts ranging from creamy Napoleons to fresh strawberry shortcake.
El Patron: Located near Longwood University, El Patron offers a wide selection of authentic Mexican dishes. On Mondays-Thursdays, and Sundays, El Patron offers Happy Hour drink specials featuring beer, Margaritas and Sangria!
Pino's Italian Restaurant: Serving up fresh pizza & hot Italian sandwiches, Pino's is a great option for a friends outing or dinner on the town with family. The homey and comfortable setting will make you feel at ease any day of the week.
Buffalo Wild Wings: A casual dining restaurant and sports bar specializing in chicken wings and their variety of sauces, "B-Dubs" is a great place to watch the game and chow down on wings and sip on a cold beer.
Applebee's: A full-service bar and grill providing hearty American dishes in a casual setting. A great place for friends and family with something for everyone.
Macados: The place to go for a mile-high sandwich, Macados serves stacked sandwiches and other delicious dishes. A great place for friends and families to hang out and chow down.
Ruby Tuesday: Burgers and other American and a fully stocked salad bar – the perfect choice for families and friends on any occasion.
Farmville Hot Dog Bar: 100% beef hot dogs, wrapped in homemade buns, topped with a variety of fresh toppings … and great desserts, including their signature Lolly Waffle Sundae!
Miller's Country Store: Stop by and enjoy some delicious food and hospitality from a Farmville original, including fresh sandwiches, homemade donuts and pies, and much more.
Riverside Café: Enjoy homemade biscuits, mashed potatoes, pancakes, veggies cooked with seasoning. All desserts made from scratch!
Moe's Southwest Grill: Honestly good food that's fresh, flavorful and handcrafted for you.
Sweet Frog: The perfect place to enjoy your favorite frozen treat while visiting with family and friends.
Farmville Bojangles: Enjoy All-You-Can-Eat Bone-In Chicken every Tuesday and Thursday from 9:30 a.m.-9:30 p.m., and other specials. Stop in for delicious biscuits, sandwiches, salads, boxes of chicken, dinner meals, family meals, sides … It's Bo-Time
Third Street Brewing Company: Grab a pint at Prince Edward County's premier craft brewery. There's indoor seating and a beer garden, yard games and board games.While Third Street Brewing Company doesn't offer food, there are often food trucks available. You can also order in or even bring your own food.